Participating Hotels for Tournament
18U Rawlings Rubber City Classic (Akron)
You must contact the hotel directly via the phone number or email listed below to get rooms from the tournament block. Rooms cannot be booked outside of the block or through third-parties such as hotels.com. If the hotel is full for this event, it will be indicated below.
---
Courtyard by Marriott - Cleveland Independence
5051 West Creek Rd., Independence, Ohio 44131
$132.00 Doubles or King
Breakfast included in rate!
Complimentary Wi-Fi internet in guest rooms, meeting space and lobby
Indoor Swimming Pool and Fitness Center
On-site Bistro serving all meals
Various restaurants within walking distance
Outdoor courtyard with sitting areas
Located at the intersection of 2 major highways
Complimentary overnight parking
Phone: 216-901-9988 / Shane Frownfelter
shane.frownfelter@marriott.com

---
Drury Inn & Suites Beachwood
4100 Orange Place, Beachwood, OH 44122 (800)436-1169 ext. 53826
$139.99 Queen Double
Complimentary Hot Breakfast
Indoor/Outdoor Pool & Jacuzzi
Free Internet Access
Free Hot Food 5:30-7:30 every night/cold beverage
Phone: 800-436-1184 / Kim Cracchiolo
kim.cracchiolo@druryhotels.com

---
Embassy Suites Cleve/Rockside
5800 Rockside Woods Blvd.
$129.00
Complementary Hot Breakfast Buffet, weekdays 6:30-9:30AM; weekends 7-10:30AM
Adults - Complimentary Managers Reception - snacks- cocktails 5:30- 7:30PM
Fitness Center
Indoor Pool
Coin laundry
Phone: 614-602-0121 / Samantha Sachs
samantha.sachs@hilton.com

---
Fairfield Inn & Suites Beachwood
3750 Orange Place, Beachwood Ohio 44122
$131.00
Conveniently located hotel in the heart of Beachwood
Complimentary hot breakfast buffet, wifi and parking
Indoor pool/spa and 24 hr. fitness center
Complimentary Gatorade for 2 Games
Within walking distance to shopping, dining and activities!
Phone: 216-450-3015 / Ellen Muir
ellen.muir@concordhotels.com

---
Holiday Inn Akron-West
4073 Medina Road, Akron, Ohio 44333
$129.00
Includes Full Hot Breakfast
Refrigerators in all rooms
42" flat screen TV's in all rooms
Hospitality suites available upon request (fee may apply)
Fitness Center
Outdoor pool
Two restaurants locatd inside the hotel
Surrounded by several excellent restaurants including the Hyde Park Grille, shopping plazas, theaters and golf courses, the Holiday Inn Akron, OH hotel has everything you need to feel right at home.
Phone: 330-666-4131 / Tami Mahoney
tmahoney@atlantichospitalitycleveland.com

---
Holiday Inn Cleveland Rockside/Independence
6001 Rockside Road, Independence, OH 44131
$121.00
Hot breakfast incuded in rate
Free wifi
Indoor pool
Close to many restaurants and shopping
Phone: 216-264-2604 / Maureen Labyk
mlabyk@hirockside.com

---
Radisson Akron/Fairlawn
200 Montrose W Ave.
$125.00
Indoor heated pool & hot tub
State of the art Fitness Center
In-house restaurant and bar
Room service
Coin operated washer & dryer
Newly renovated hotel!!
Walking distance to several restaurants like Wasabi, Long Horn, Outback, TResPotrillos, an authentic Mexican restaurant, Hooley house & TGIFridays
Phone: 330-666-9300 / Paul Patel
paul@acrehospitality.com

---
Residence Inn Akron/Fairlawn
4080 Embassy Parkway, Fairlawn, Ohio 44333
$139.00
Full Hot Breakfast
Indoor Swimming Pool with Hot Tub
Sports Court
Close to restaurants, shopping, movie theatre
Phone: 330-664-7888 / Pam Pratt
ppratt@residencefairlawn.com

---
Residence Inn Cleveland Independence
5101 West Creek Rd, Independence, OH 44131
$132.00 King Studio Suite
$162.00 Two Bedroom Suite
All suite hotel offering spacious rooms, fully equipped kitchens with full-size frefrigerator, dishwasher, toaster, microwave and coffee maker
King Studio Suite (King with sofa bed- accomodates up to 4 peope) - Full suite, Full kitchen
Two Bedroom/Two bath suites has two separate bedrooms, one king bed in each and one pull-out sofa - accomodates up to 6 people
Rate includes Full Hot Breakfast Buffet - 6-9am weekdays, 7:30- 10:30 weekends
Outdoor pool, hot tub, fitness center in gatehouse
Guest laundry available
Complimentary grocery shopping service
Plenty of restaurants in the area and several that deliver
Phone: 216-674-2002 / Anne Demenik
anne.demenik@marriott.com

---
Springhill Suites Independence
6060 Rockside Pl. Independence, Ohio 44131
$134.00 Queen Double Suites
$129.00 King Suites
GUEST ROOM AMENITIES - We have rooms that are 2 bedded Queen Suites with a queen-size pull-out sofa and King Suites with a trundle bed * Dedicated workspaces * Separate areas to sleep, work and relax * In-suite micowave and a mini-fridge * Spa-like bathrooms * Complimentary hot breakfast * Free Wi-Fi * Mobile * Fire pits * Indoor Pool * Lobby Bar * 24 Hour Market * Fitness Center * Free Parking
RESTAURANTS NEAR BY - Outback Steakhouse, Bonefish Grill, Bob Evans, Denny's , The Winking Lizard, Wendy's McDonalds & Applebee's are just a sample of restaurants.
Phone: 216-264-4190 / Wendy Guild
wguild@shsindependence.com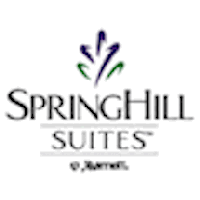 ---